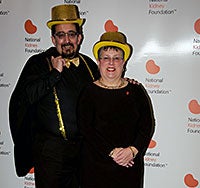 On March 22, 2014 the National Kidney Foundation Celebrated Life at the 2014 Kidney Gift of Life "All that Glitters is Gold" Gala at Heinz Field!
The night kicked off with a VIP Reception to honor our 2014 Gift of Life Awardees. This year's awardees included Questcor Pharmaceuticals, Recipient of the John V. Heher Gift of Life Corporate Award; Dr. Kevin Ho, Nephrologist and Associate Professor of Medicine, University of Pittsburgh Physicians Renal-Electrolyte Division; and Mrs. Beth Pruchnicki, long-time Kidney Walk Volunteer and Fundraiser.
Local celebrities Mike Clark and Elena LaQuatra emceed the event, and Protégé rocked the dance floor throughout the evening!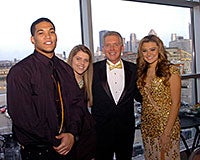 Thanks to our generous sponsors and supporters, the Kidney Gift of Life Gala raised nearly $175,000 for the National Kidney Foundation! The funds raised at the Kidney Gift of Life Gala enable us to help tens of thousands of local residents in our 80-county territory who have Chronic Kidney Disease (CKD), including those who are on dialysis and/or are anxiously awaiting a transplant.
Thank you to everyone who made the 2014 Kidney Gift of Life Gala a huge success! To view photos from the evening, click here.
Save the Date for next year…
March 7, 2015 at Heinz Field!
For more information on how to get involved with the Kidney Gift of Life Gala, please contact Jade Holtzinger.
Sponsors: