Thank you to everyone who came out to Turner Field on May 31st!! We had an excellent turn out and raised over $200,00. The dollars raised are already hard at work funding programs and services right here in Georgia. We sincerely appreciate all you have done to fight kidney disease and increase awareness for organ donation.
The Kidney Walk is the nation's largest walk to fight kidney disease. Held in nearly 100 communities, the event raises awareness and funds lifesaving programs that educate and support patients, their families and those at risk. We will announce the 2015 walk schedule in October 2014.
Upcoming Patient Empowerment Workshop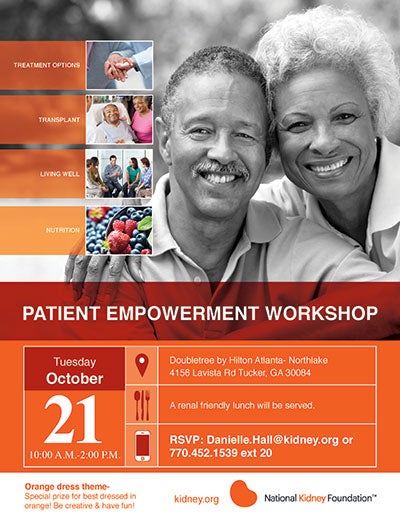 October 21, 2014
10am-2pm
Doubletree by Hilton Atlanta- Northlake 4156 Lavista Rd Tucker, GA 30084
RSVP: Danielle Hall or 800-633-2339.
Your Kidneys and You Free Training
Want to educate others about kidney health? Learn how to present this easy 20 minute presentation to friends, family, colleagues, churches, community centers, schools, and more!
Nov. 4, 2014, 12pm-1pm
Please register 2 weeks prior to training to Henry Well, (888) 848-5277 ext 110
Webinar and conference call number will be emailed once registered.
KEEP Healthy - Free Kidney Health Check
The National Kidney Foundation's community-based initiative to educate about the kidneys, risk factors for kidney disease, and steps to take to keep kidneys healthy and reduce risk.
Check-up includes: risk survey, body mass index (BMI), blood pressure check, free educational materials, and opportunity to speak with a health care professional. Click here for more information.
The NKF Golf Classic is the nation's premier amateur golf event for charity. The top 5-finishing teams (Gross and Handicap Index Divisions combined) from every local NKF Golf Classic are invited to compete in the National Finals held at the famed Pebble Beach Resorts (additional fees required).
Donate your Car to Kidney Cars!
Make a car donation and help improve the lives of the millions of Americans affected by kidney disease. Donate now.
A Family Recipe Book for Kidney Patients
Recipes compiled and tested by the Georgia Council on Renal Nutrition, National Kidney Foundation, Georgia Division, Atlanta, Georgia. Download the recipe book here.
Patient & Family Services
Health Fairs
To provide public awareness and education related to kidney disease and organ donation, NKFG&A staff and volunteers participate in various Health Fairs throughout the state. If you are interested in being trained as a volunteer for a health fair in your area. If you are interested in having an NKFG representative speak to your group or exhibit at an upcoming health fair, please contact us at (770) 452-1539.
to become a volunteer.
GCRN Newsletter
Read the latest newsletter here.