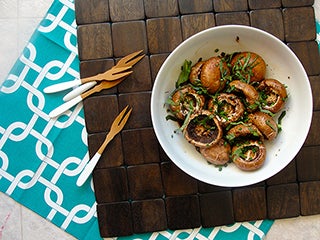 Appropriate for:
Makes 12 mushrooms Serves 4, 3 mushrooms per person
Ingredients
12 button mushrooms, stems removed
¼ cup balsamic vinegar
¼ cup apple cider vinegar
1 tbsp. chopped chive + extra for garnish
Pinch freshly ground black pepper
Directions
In a medium sized bowl or Tupperware, place the mushrooms with the rest of the ingredients and cover. Use hands to mix everything together and then place in the refrigerator for a minimum of 2 hours and a maximum of 2 days, shaking every so often to redistribute the vinegar dressing. To serve, take the mushrooms out of the bowl or Tupperware, separate them from the vinegar, and sprinkle with extra chives. You can also add an extra drizzle of the leftover vinegar on top of the mushrooms. Or get even fancier by reducing the vinegar (by placing in a pot, on the stove, and cooking over medium heat) and using it as a thicker sauce.
Analysis
Calories 39, Fat 1.0 g, Saturated fat 0.1 g, Cholesterol 0.0 mg, Sodium 5.5 mg, Protein 1.8 g, Carbohydrates 7.0 g, Dietary Fiber 0.4 g, Sugars 6.5g, Potassium 220.9 mg, Phosphorus 63.7 mg
Attribution:
This recipe was submitted by Jess Goldman Foung, aka Sodium Girl. For more information on Jess visit her website at sodiumgirl.com.