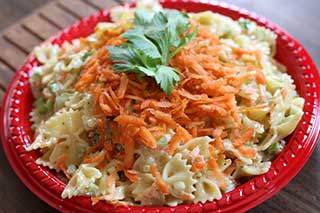 Appropriate for:
Serves 8 1/3 cup per serving
Ingredients
2 cups cooked bow-tie pasta
1/4 cup chopped celery
2 tablespoons chopped green pepper
2 tablespoons shredded carrot
2 tablespoons minced onion
1/8 teaspoon pepper
2/3 cup mayonnaise
1/2 teaspoon sugar
1 tablespoon lemon juice
Directions
Mix pasta, celery, green pepper, carrot and onion in a bowl.
In separate small bowl, blend pepper, mayonnaise, sugar and lemon juice until smooth.
Pour over pasta and vegetables.
Mix until well coated.
Chill before serving.
Analysis
Calories 189, Carbohydrates 12 g, Protein 2 g, Fat 15 g, Sodium 111 mg, Potassium 61 mg, Phosphorus 31 mg.
Attribution:
This recipe was taken from Living Well on Dialysis: A Cookbook for Patients and Their Families © 1991-2012, National Kidney Foundation.