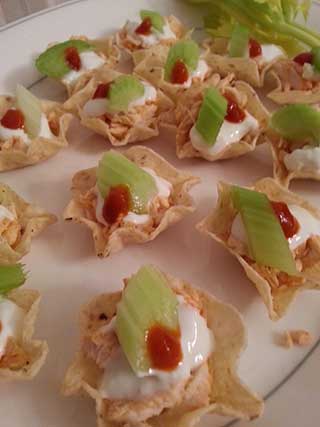 Appropriate for:
6 Servings (8 scoops per serving)
Ingredients
6 oz. chicken breasts, skinless & boneless
1 1/2 cups no-salt added chicken stock
1 cup fat free sour cream
3 oz. Blue Cheese crumbles
3/4 teaspoon Garlic Powder
3/4 teaspoon Onion Powder
8 stalks of celery, diced
1 tablespoon Sriracha hot sauce
48 scoop-shaped corn chips
Directions
Poach the chicken breasts in the chicken stock for 20 minutes or until the chicken is cooked through. While the chicken is cooking mix the sour cream, blue cheese crumbles, garlic powder and onion powder together. When the chicken is cooked, remove from the liquid and dice the chicken. Coat the chicken with the Sriracha hot sauce. Portion out the chicken in to the scoop shaped chips, spoon about 3/4 teaspoon of sour cream mixture over the chicken, add a slice of celery and a drop of hot sauce.
Analysis
Attribution: