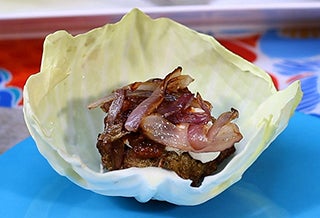 Appropriate for:
Serves 8; 1/8 lb of meat per person Recipe makes 8 burg
Ingredients
1 cup whole grain, white quinoa
1 pound ground lamb, raw (turkey meat can be used if lamb is unavailable)
1 egg, whisked
4 garlic cloves, minced
1 tablespoon fresh, grated ginger (or minced)
½ teaspoon cumin
½ teaspoon freshly ground black pepper
¼ teaspoon smoked paprika
2 tablespoons fresh mint, chopped
1 tablespoon fresh cilantro, chopped
1 tablespoon fresh chives, chopped
2 tablespoons sesame oil
½ red onion, thinly sliced
½ cup Tomato-Less Ketchup (recipe below)
2 teaspoons salt-free curry powder
Crème fraiche or 0% Greek Yogurt
Green cabbage or butter lettuce leaves, washed
Directions
In a medium sized pot, bring 2 cups of water to a boil over medium-high heat. When bubbling, add in the quinoa and reduce to medium-low heat. Cover the pot with a lid, making sure to check in on the quinoa and giving it a stir every few minutes, cooking for 10 to 15 minutes total. When quinoa is ready it will puff up, with little white tendrils sprouting from the grain, and will be nice and fluffy to eat. If it is still too hard, add a little more water and continue to cook.
Analysis
Calories: 210
Fat: 10 g
Carbohydrates: 15 g
Protein: 15 g
Sodium: 58 mg
Potassium: 317 mg
Phosphorus: 199 mg
Calcium: 43 mg
Attribution:
This recipe was submitted by Jess Goldman Foung, aka Sodium Girl. For more information on Jess visit her website at sodiumgirl.com.