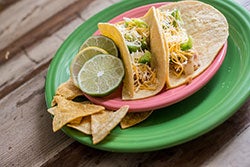 Appropriate for:
Serves 6
Ingredients
2 chicken breasts (~12 ounces)
6 Tablespoons grated 2% Mexican cheese blend
½ teaspoon onion powder
1 teaspoon garlic powder
1 teaspoon pepper
½ yellow onion, sliced and cut into strips
1 bell pepper, cut into strips
6 small corn tortillas
Directions
Cook chicken until 165°F. Let rest. Then, cut.
Cook onion until translucent and bell pepper until browned.
Toss chicken and vegetables with onion powder, garlic powder, and pepper.
Add chicken and cooked vegetables to tortilla.
Top with shredded cheese.
Enjoy!
Analysis
Calories 153, protein 15.6 g, total fat 4.3 g, carbohydrates 13g, sodium 96 mg, potassium 209 mg, phosphorus 214 mg
Attribution:
This recipe was submitted by Denon Stacy, MS, RD, LD.