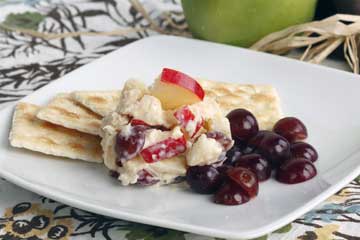 Appropriate for:
Serves 5 1/2 cup per serving
Ingredients
2 cans of canned chicken packed in water
1/2 cup grapes
2 green onions
3 Tablespoons light mayonnaise
2 medium Gala apples
1 Tablespoon sugar
Directions
Rinse and drain cans of chicken. Cut grapes in half. Chop green onions. Core and chop apples. Mix all ingredients together. Allow to rest in refrigerator for 1 hour before serving. The chicken salad can be paired with white bread or low sodium crackers. These items were not included in the nutritional analysis.
Analysis
Calories 177
fat 1.6g
protein 16 g
carbohydrate 15.2 g
sodium 183 mg
potassium 182 mg
phosphorus 61 mg
Attribution:
This recipe was submitted by Denon Stacy, MS, RD, LD