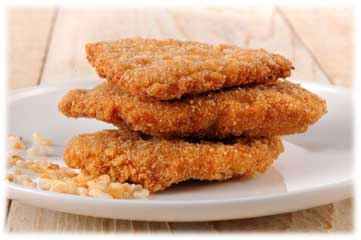 Appropriate for:
Serves 6 1 cutlet per serving
Ingredients
6 chicken breast cutlets of 1.7-1.8 oz. each
1 whole egg
2 egg whites
1 tsp. mustard powder
1/4 cup water
2 Tablespoons white flour (can place more on plate for ease of coating)
1/4 tsp. black pepper
5 oz. puffed rice (no sugar or salt added)
Juice of 1 lemon or 4 Tbsp. vinegar
Canola oil for deep frying
Directions
Soak the chicken breasts in lemon juice or vinegar for an hour, rinse and pat dry. Crush the puffed rice in food processor to the size of bread crumbs.
Prepare 3 bowls with the following ingredients:
Flour mixed with black pepper
Mixture of eggs, water, and mustard powder
Crushed puffed rice
Coat chicken breast completely with flour. Shake off excess flour. Dip chicken in egg mixture and then dip in crushed puffed rice. Pat well to ensure chicken breast is coated evenly. Then, dip the coated chicken breast back into the egg mixture a second time, followed by dipping the chicken into a second coating of puffed rice. Again, pat well to make sure chicken breast is evenly coated.
Order of coating for each cutlet:
Flour → egg → puffed rice → egg again → puffed rice again
Heat canola oil in a skillet to medium heat, 350 degrees Fahrenheit. Fry the coated cutlets for 2 minutes, turning them over after 1 minute on each side.
Tip:
Cutlets can be coated and frozen before baking. Place baking paper between schnitzels and freeze in a sealed box. To prepare the frozen schnitzels, defrost for approximately 30 minutes and then fry.
Analysis
Calories 221
protein 15 g
carbohydrates 23 g
fat 7 g
sodium 128 mg
potassium 165 mg
phosphorous 105 mg
Attribution:
This recipe was submitted by Tal Kaminski Rosenberg, Dietitian