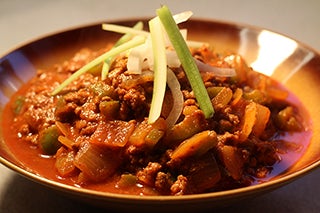 Appropriate for:
Serves 5 1 cup per serving
Ingredients
1 lb. lean ground beef
1 cup chopped onion
½ cup chopped green pepper
6 oz. no-salt tomato paste
2 tablespoons chili powder
1 teaspoon garlic powder
½ teaspoon ground cumin
½ teaspoon paprika
1 quart water
Directions
In a large pot, brown the ground beef. Drain fat. Add onion and green pepper. Cook until onion is transparent. Add remaining ingredients and simmer 1 ½ hours. Before serving, measure chili and add additional water to make 5 cups. Heat through.
Analysis
Calories 254, total fat 14g, sodium 118mg, phosphorus 182mg, potassium 683mg, total carbohydrates 11g, protein 21g
Attribution:
This recipe was taken from Living Well on Dialysis: A Cookbook for Patients and Their Families © 1991-2012, National Kidney Foundation.