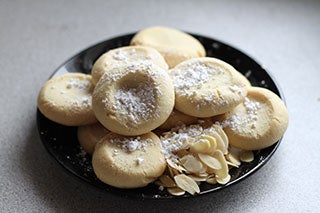 Appropriate for:
Serves 24, 3 cookies per serving
Ingredients
1 cup margarine, softened
1 cup sugar
1 egg
3 cups flour
1 teaspoon baking soda
1 teaspoon almond extract
Directions
In a medium mixing bowl, cream margarine and sugar. Add egg and beat well. Sift dry ingredients and add to creamed mixture. Add almond extract and mix well. Roll into balls about 3/4 inch in diameter. Press a small hole in the middle of each cookie. Bake at 400°F for 10 to 12 minutes, until cookies are golden brown around edges.
Analysis
Calories 158, Carbohydrates 20g, Protein 2g, Fat 8g, Sodium 99mg, Potassium 18mg, Phosphorus 17mg
Attribution:
This recipe was taken from Living Well on Dialysis: A Cookbook for Patients and Their Families © 1991-2012, National Kidney Foundation.