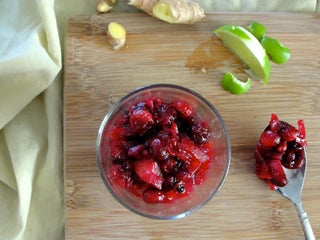 Appropriate for:
Makes 2 cups cooked chutney Serves 8, 1/4 cup per perso
Ingredients
1 cup red onion, diced
1 teaspoon vegetable oil
1 tablespoon grated ginger (3-inch piece of ginger root, peeled and grated)
1 cup apple with skin, finely chopped (about ½ of a large apple)
1 teaspoon whole black peppercorn
10 oz (2 cups) cranberries, fresh or frozen
2 tablespoons apple cider vinegar
2 tablespoons apricot jam
1 tablespoon lime juice (about ½ medium lime)
Lime zest, garnish
Directions
In a large skillet, heat the vegetable oil over medium-high heat. When hot, add the red onions and cook until soft, about 8 to 10 minutes. Add the grated ginger, diced apple, and black peppercorns. Mix and continue cooking until the apples have softened, another 5 minutes.
Analysis
Calories: 44, Fat: 0.7g, Carbohydrates: 10.4 g, Protein: .4 g, Sodium: 3.4 mg, Potassium: 73.6 mg, Phosphorus: 10.7 mg
Attribution:
This recipe was submitted by Jess Goldman Foung, aka Sodium Girl. For more information on Jess visit her website at sodiumgirl.com.