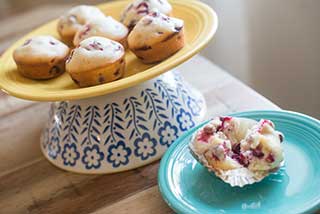 Appropriate for:
Serves 12
Ingredients
1 1/2 cups all-purpose flour
1 teaspoon baking powder, low sodium
1/4 teaspoon salt
1/2 cup granulated sugar
1/4 cup vegetable oil
1 large egg, beaten
1 1/2 cups cranberries, chopped
1/3 cup water
Directions
Preheat oven to 400 degrees Fahrenheit.
Combine oil and sugar.
Add egg, baking powder, flour, salt, and water.
Mix well.
Fold in cranberries.
Grease muffin pan or use cupcake liners.
Bake for 20-25 minutes or until golden brown and toothpick comes out clean.
Enjoy!
Analysis
Attribution: