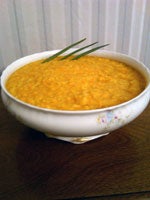 Appropriate for:
Serves 6
Ingredients
1 tablespoon canola oil
2 carrots, diced
1 onion, diced
2 Granny Smith apple, peeled, cored and diced
1 bay leaf
1 clove garlic, minced
1 tablespoon curry powder
½ teaspoon ground ginger
2 pinches of dried red pepper flakes
1 cups chicken stock, low-sodium
4 cups rice milk
½ cup jasmine rice, uncooked
2 teaspoon Coconut extract
1 green onion, as a garnish
Directions
Add oil, carrots, onion, apple to a soup pot, and cook over medium heat until the onions become translucent. Add bay leaf, garlic, curry powder and cook for 1 more minute. Add chicken stock and rice milk and bring to simmer. Add rice and cook for 30 minutes or until the rice is cooked and starting to dissolve. Remove the bay leaf. Use an immersion blender to puree the soup. Add the coconut extract and serve with strips of green onion.
Analysis
Calories 201, total fat 4 g, saturated fat 0.5 g, monounsaturated fat 3.5 g, polyunsaturated fat 1.3 g, cholesterol 150 mg, calcium 10 mg, sodium 140 mg, phosphorus 145 mg, potassium 213 mg, total carbohydrates 38 g, dietary fiber 2.2 g, sugar 10 g, protein 2.2 g
Attribution:
This recipe was submitted by CKD patient Chef Duane Sunwold.