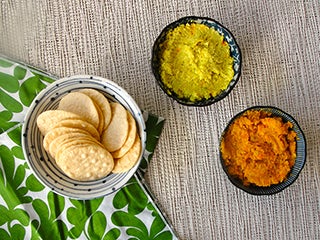 Appropriate for:
Serves 4, about 1/4 cup per person
Ingredients
1 cup frozen peas, boiled or steamed
½ cup frozen corn, thawed
½ – inch piece raw ginger, peeled and chopped
¼ tsp salt-free curry powder
Pinch freshly ground black pepper
Pinch cayenne, optional
Directions
Place all the ingredients together in a blender with 2 tablespoons of water. Puree until it is smooth and add more water as necessary to get the desired "dip" consistency. Taste and adjust spices as necessary. Serve with salt-free rice crackers or toasted low-sodium corn tortillas.
Analysis
Calories 49, Fat 0.3 g, Saturated fat 0.0 g, Cholesterol 0.0 mg, Sodium 29.2 mg, Protein 2.6 g, Carbohydrates 9.9 g, Dietary Fiber 2.8 g, Sugars 2.5g, Potassium 97.1 mg, Phosphorus 47.8 mg
Attribution:
This recipe was submitted by Jess Goldman Foung, aka Sodium Girl. For more information on Jess visit her website at sodiumgirl.com.