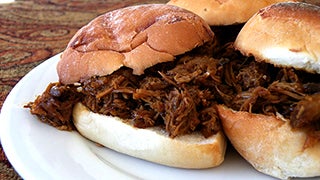 Appropriate for:
Serves 8 ¼cup BBQ pork on each bun
Ingredients
1 tsp. onion powder
1 Tbsp. olive or canola oil
1 tsp. garlic powder
1 tsp. brown sugar
1 Tbsp dry mustard
1 tsp. paprika
1 medium onion, minced
3 garlic cloves, minced
2 Tbsp. tomato paste
2 Tbsp. prepared brown mustard
1 tsp. Worcestershire sauce
1 Tbsp. brown sugar or molasses
½ tsp. black pepper
¼ cup cider vinegar
2 pounds pork roast **
Recipe BBQ Sauce
8 Hamburger buns
Directions
Measure all dry ingredients in a small bowl and mix well. Coat the roast with oil. Then rub dry mixture to coat the roast. Place roast into slow cooker and set for 8-10 hours.
Analysis
1 serving of BBQ pork with 1 hamburger bun:
Calories 370, fat 17g, protein 27g, carbohydrate 30g, sodium 275 mg, potassium 390 mg, phosphorus 230 mg, calcium 85 mg
Attribution:
This recipe was submitted by Gayle Booth, RD.