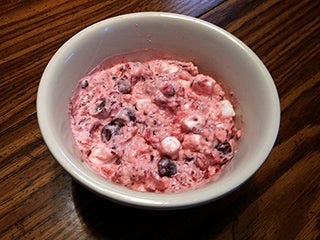 Appropriate for:
Serves 20 ½cup
Ingredients
1 - 12 ounce package of fresh cranberries
1 cup white sugar
2 ½ pounds red grapes, halved
9 ounces crushed pineapple, drained
2 cups mini-marshmallows
1 – 8 ounce tub of lite whipped topping
Directions
In a food processor, grind the cranberries to a fine texture. Place the cranberries in a strainer with the sugar. Place the strainer over a bowl, and allow the cranberries to drain in refrigerator overnight. Discard the juice that drains off.
Analysis
Calories 108, protein 0.4 grams, carbohydrate 24.8 grams, fat 2.8 grams, sodium 4.6 mg, potassium 85 mg, phosphorus 0.9 mg.
Attribution:
This recipe was submitted by Lisa Sorn MS, RD, LD.