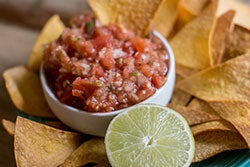 Appropriate for:
Flour tortilla chips
Ingredients
10 small (6 inch) flour tortillas
Non stick cooking spray
1 teaspoon garlic powder
Directions
Preheat oven to 400°F.
Line a baking sheet with aluminum foil. Spray foil with cooking spray.
Cut tortillas into 8 small triangles.
Spray with cooking spray.
Sprinkle 1 teaspoon garlic over triangles.
Bake for 20 minutes.
Let cool.
Enjoy!
Analysis
Calories 109, protein 2.8 g, total fat 2.6 g, carbohydrates 18.1 g, sodium 154 mg, potassium 46 mg, phosphorus 41 mg
Attribution:
These recipes were submitted by Denon Stacy, MS, RD, LD.