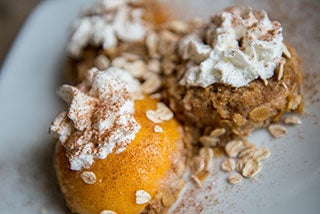 Appropriate for:
Serves 7, 1 peach plus topping per serving
Ingredients
1 can (21 ounces) peaches in their own juice (drained)
1 teaspoon lemon juice
½ cup brown sugar
¼ cup white flour
¾ cup oats
½ teaspoon cinnamon
½ teaspoon nutmeg
¼ stick cold butter, unsalted
Directions
Preheat oven to 350 degrees F.
In a buttered muffin tin, put in peaches and sprinkle with lemon juice.
Combine brown sugar, flour, oats, and spices.
Cut in butter until mixture resembles wet sand.
Sprinkle over fruit mixture.
Bake for 25-30 minutes or until browned and bubbly.
Serve warm.
Analysis
Calories 139, protein 2 g, total fat 4 g, carbohydrates 25 g, sodium 6 mg, potassium 139 mg, phosphorus 55 mg
Attribution:
This recipe was submitted by Denon Stacy, MS, RD, LD.