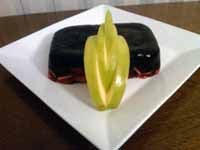 Appropriate for:
Serves 8 – ½ cup servings
Ingredients
1-6 oz. package of apricot gelatin
1-15 oz. can sliced pickled beets
1 Granny Smith apple, peeled, cored and julienne
¼ cup sugar
¼ cup cider vinegar
1 teaspoons horseradish
2 teaspoons Dijon mustard
Directions
Drain beets, saving the liquid. Add enough water to the beet liquid to make 1 ½ cups. Place beets and apples in a serving bowl. Bring liquid to a boil, remove from the heat and dissolve gelatin in the liquid. Add sugar, vinegar, horseradish and Dijon mustard; stir together. Pour over the beet and apples, refrigerate and allow to gel.
Analysis
Calories 126, total fat 0.1 g, saturated fat 0.0 g, monounsaturated fat 0.0 g, polyunsaturated fat 0.0 g, cholesterol 0.0 mg, calcium 9.5 mg, sodium 129 mg, phosphorus 31 mg, potassium 87 mg, total carbohydrates 31 g, dietary fiber 0.9 g, sugar 29.6 g, protein 2.6 g
Attribution: