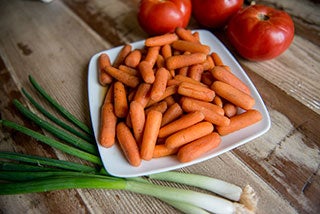 Appropriate for:
Serves 4, ½ cup per serving
Ingredients
1 pound carrots
1 Tablespoon unsalted butter
1/4 cup brown sugar
1/8 teaspoon pepper
Directions
Wash and peel carrots.
Boil for about 15-20 minutes or until fork tender.
Drain carrots.
Melt butter and sugar to form a sauce.
Pour sauce and pepper over carrots.
Toss and serve.
Enjoy!
Analysis
Calories 88, protein 0.6 g, total fat 3 g, carbohydrates 15.4 g, sodium 48 mg, potassium 198 mg, phosphorus 25 mg
Attribution:
This recipe was submitted by Denon Stacy, MS, RD, LD.