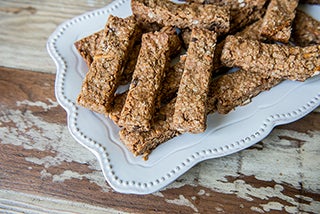 Appropriate for:
Serves 26; 1 bar per serving
Ingredients
¾ cup peanut butter, reduced sodium
¼ cup honey
½ cup packed brown sugar
½ cup corn syrup
5 tablespoons butter
2 teaspoons vanilla extract
3 ⅓ cups rolled oats
¾ cup pretzels, unsalted
¼ cup semisweet chocolate chips
10 caramel candies
Directions
Preheat oven to 350 degrees F.
In a large bowl stir together the peanut butter, honey, butter, brown sugar, corn syrup and vanilla until smooth.
Add all the other ingredients: oats, pretzels, chocolate chips, and caramels. Stir well.
Press the mixture into 13 x 9 inch greased pan.
Bake for 20–25 minutes.
Let cool on wire rack before cutting into bars.
Cut into 1 x 4 ½ inch bars. This recipe should yield 26 bars.
Analysis
Calories 201, protein 4.4 g, total fat 7.7 g, carbohydrates 31 g, sodium 71 mg, potassium 127 mg, phosphorus 84 mg.
Attribution:
This recipe was submitted by Denon Stacy, MS, RD, LD