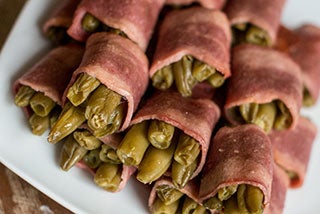 Appropriate for:
Serves 5, 4 bundles per serving
Ingredients
1 can cut green beans, no added salt
10 strips turkey bacon
1 Tablespoon + ¼ teaspoon brown sugar
2 tablespoons chopped onion
Directions
Pre-heat oven to 400 degrees F.
Cut bacon in half.
Wrap five green beans in each half of turkey bacon.
Top each bundle with 1/8 teaspoon brown sugar.
Cook for 20 minutes or until turkey bacon is cooked through.
Enjoy!
Analysis
Calories 78, protein 5 g, total fat 4.4 g, carbohydrates 5.8 g, sodium 286 mg, potassium 129 mg, phosphorus 92 mg
Attribution:
This recipe was submitted by Denon Stacy, MS, RD, LD.