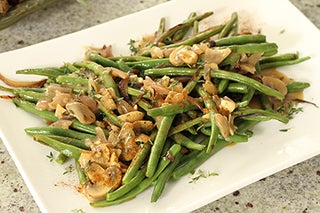 Appropriate for:
Serves 6; 1 loosely packed cup of cooked green beans an
Ingredients
Handful dried shiitake mushrooms
3 tbsp. olive oil
¾ large red onion, half of it diced and half of it sliced
4 cloves garlic, minced
¼ cup sherry vinegar (unseasoned, very low sodium)
1 ½ cups white button mushrooms, sliced
1 tbsp. all-purpose flour
1 lb (16 oz) green beans, washed, ends cut off, and cut in half
¼ tsp. freshly ground black pepper
¼ cup light whipping cream
1 teaspoon fresh thyme (or tarragon or parsley), finely chopped
¼ tsp. smoked paprika
Directions
Place the dried shiitake mushrooms and 4 cups of water in a medium pot over high heat. Cover with a lid and bring it to a boil. Let it boil and bubble for 5 minutes and then reduce heat to low and continue cooking with the lid still on, about 20 minutes. This is your mushroom broth.
Analysis
Calories: 130, Fat: 9.8 g, Saturated fat: 2.5 g, Cholesterol: 0.9 mg, Sodium: 14.8 mg, Carbohydrates: 9.4 g, Protein: 2.6 g, Potassium: 239.3 mg, Phosphorus: 70.1 mg
Attribution:
This recipe was submitted by Jess Goldman Foung, aka Sodium Girl. For more information on Jess visit her website at sodiumgirl.com.