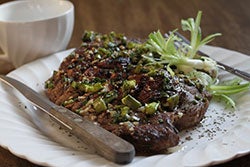 Appropriate for:
Serves 6, 3 ounces of steak per serving
Ingredients
1 ½ lb. chuck steak
1 can (12 oz.) beer
½ cup sliced green onion
¼ cup chopped green pepper
2 tablespoons vinegar
1 tablespoon teriyaki sauce
2 tablespoons sugar
2 cloves garlic, minced
¼ teaspoon pepper
Directions
Place steak in a large shallow dish.
Combine remaining ingredients and pour over steak.
Marinate 6 to 8 hours in the refrigerator, turning at least once to let flavors penetrate.
Drain the marinade from the steak; reserve.
Broil steak over medium coals for 15 to 20 minutes to desired doneness, brushing steak occasionally with reserved marinade.
Analysis
Calories 201, carbohydrates 12 g, protein 25 g, total fat 6 g, sodium 196 mg, potassium 484 mg, phosphorus 247 mg
Attribution:
This recipe was taken from Living Well on Dialysis: A Cookbook for Patients and Their Families © 1991-2012, National Kidney Foundation.