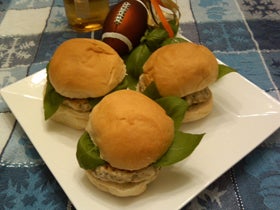 Appropriate for:
8 servings (2 sliders/serving)
Ingredients
16 oz. ground chicken
1/2 onion, peeled and diced
1 Granny Smith apple, peeled, cored and minced
1 cup wheat gluten
4 egg whites
5 cloves garlic, minced
2 teaspoon ground, dried thyme
4 teaspoons dried basil
2 teaspoons dried oregano
24 fresh basil leaves
16 slider buns, or small dinner rolls
Directions
Mix all of the ingredients together, except fresh basil leaves and the buns. Make the meat mixture into 2 oz. patties. Place the patties on an oiled baking dish. Bake the patties in a pre-heated 350 F oven for 20 to 30 minutes, until the patties are cooked completely through. Serve each patty on bun with 3 fresh basil leaves.
Analysis
Calories 354, total fat 4.5 g, saturated fat 1.0 g, monounsaturated fat 1.2 g, polyunsaturated fat 1.7 g, cholesterol 167mg, calcium 115.7 mg, sodium 341 mg, phosphorus 173 mg, potassium 265 mg, total carbohydrates 38 g, dietary fiber 5.4 g, sugar 3.6 g, protein 29 g
Attribution: