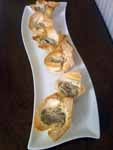 Appropriate for:
Serves 12
Ingredients
½ cup whole almonds
8 oz. Tofu, firm
1 ½ teaspoons chopped garlic
¼ teaspoon dried oregano
2 teaspoon dried basil
¼ teaspoon dried ground thyme
1 tablespoon lemon juice
1/8 teaspoon onion powder
1/8 teaspoon grilling spice, salt-free
2 drops Tabasco
1 ¼ teaspoon vegetarian chicken base
¼ teaspoon garlic powder
8 sheets of phyllo dough
Olive oil, (sprayed between the sheets)
Directions
Blanch the almonds in water, simmering for 15 minutes. Drain the almonds and chop in food processor. Add the rest of ingredients, except phyllo dough & oil, and mix into a smooth consistency. Take 1 sheet of phyllo dough, spray with oil, add a second sheet and spray with oil, until you have 4 layers. Cut the dough into 6 squares; place each square into a muffin cup. After filling 12 muffin cups, spoon the almond-tofu mixture into each phyllo cup. Bake in a pre-heated 400 F oven for 10 to 15 minutes, until the phyllo is golden brown. Remove from oven, let cool for 5 minutes and serve.
Analysis
Calories 89, total fat 4.7 g, saturated fat 0.5 g, monounsaturated fat 3 g, polyunsaturated fat 1 g, cholesterol 0.0 mg, calcium 23 mg, sodium 137 mg, phosphorus 55 mg, potassium 68 mg, total carbohydrates 9 g, dietary fiber 1 g, sugar 0.5 g, protein 3.5 g
Attribution:
This recipe was submitted by CKD patient Chef Duane Sunwold