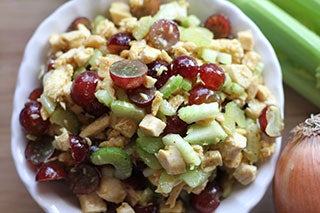 Appropriate for:
Serves 4, 1 cup per serving
Ingredients
1/4 cup oil
4 tablespoons frozen lemonade concentrate, thawed
1/4 teaspoon ground ginger
1/4 teaspoon curry powder
1/8 teaspoon garlic powder
1 1/2 cups cooked diced chicken
1 1/2 cups grapes, halved
1/2 cup sliced celery
Directions
In a large bowl, combine oil, lemonade concentrate and spices. Add remaining ingredients and toss lightly. Chill.
Analysis
Calories 307
Fat 20 g
Carbohydrates 15 g
Protein 17 g
Sodium 57 mg
Potassium 235 mg
Phosphorus 119 mg
Attribution:
This recipe was taken from Living Well on Dialysis: A Cookbook for Patients and Their Families © 1991-2012, National Kidney Foundation.