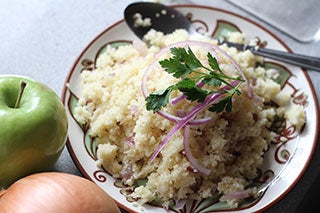 Appropriate for:
Serves 4, ½ cup per serving
Ingredients
2 tablespoons chopped onion
½ tablespoon margarine or olive oil
1 cup water
2/3 cup dry couscous
Directions
Saute chopped onion in the margarine or olive oil until tender. In a medium saucepan, bring water to a boil. Stir in couscous and onion. Let stand 5 minutes. Fluff lightly with fork before serving.
Analysis
Calories 115, Protein 3.5g, fat 2g, carbohydrates 21g, sodium 24mg, potassium 61mg, phosphorus 22mg.
Attribution:
This recipe was taken from Living Well on Dialysis: A Cookbook for Patients and Their Families © 1991-2012, National Kidney Foundation.