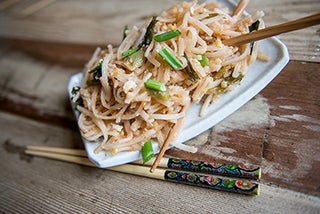 Appropriate for:
Serves 8
Ingredients
1 pound rice noodles (look for a low-sodium variety)
¼ cup vegetable oil
1 cup cooked chicken, sliced
1 Tablespoon minced garlic
4 green onions, sliced on the diagonal
1 chili pepper, diced
1 egg
2/3 cup Pad Thai Sauce
1 lime
1/8 cup cilantro, chopped
Directions
Soak rice noodles for approximately 40 minutes.
Cook chicken. Then, slice.
Mix ingredients for Pad Thai Sauce.
Sautee garlic, pepper, and half of green onions in ¼ cup vegetable oil.
Add noodles. Toss to coat.
Add egg; cook thoroughly.
Add Pad Thai Sauce. Toss to coat.
Add remainder of juice from lime and top with cilantro. Enjoy!
Analysis
Calories 346, protein 3.8 g, total fat 8.6 g, carbohydrates 62 g, sodium 232 mg, potassium 66 mg, phosphorus 27 mg
Attribution:
This recipe was submitted by Denon Stacy, MS, RD, LD