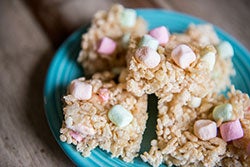 Appropriate for:
Serves 9, serving size 1 square (1/9th of recipe)
Ingredients
1 ½ cup mini marshmallows
¼ cup sugar substitute
3 cups rice cereal
1 Tablespoon butter or margarine
Directions
Melt butter or margarine over low heat in a large saucepan.
Add marshmallows.
Stir continuously until melted.
Add sugar substitute of your choice.
Add rice cereal.
Stir until combined.
Transfer mixture into a greased 8 x 8 pan.
Press down with wax paper.
Let cool.
Cut into 9 squares.
Enjoy!
Analysis
Calories 86, protein 0.9 g, total fat 1.5 g, carbohydrates 18 g, sodium 60 mg, potassium 13 mg, phosphorus 13 mg
Attribution:
These recipes were submitted by Denon Stacy, MS, RD, LD.