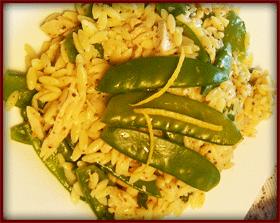 Appropriate for:
Serves 6, 1 cup servings
Ingredients
4 cups Orzo, cooked
8 oz. Snow Peas, blanched* & chilled
2 Green onions
8 oz. Pre-cooked chicken
Directions
Mix all of the ingredients together for the dressing. Place orzo, snow peas, green onions and chicken in a mixing bowl. Pour the dressing over the orzo mixture and toss before serving.
Analysis
Calories 301, total fat 5.9 g, saturated fat 1.2 g, monounsaturated fat 2 g, polyunsaturated fat 1.9 g, cholesterol 33.6 mg, calcium 42.5 mg, sodium 169 mg, phosphorus 174 mg, potassium 299 mg, total carbohydrates 41.8 g, dietary fiber 2.4 g, sugar 3.8 g, protein 19 g
Attribution:
This recipe was submitted by CKD patient Chef Duane Sunwold.