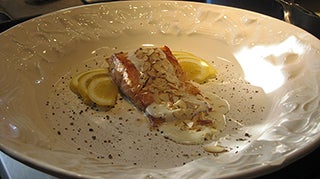 Appropriate for:
Serves 3 1 – 3 oz. fillet per serving
Ingredients
Salmon
3 salmon fillets (3 oz. each)
¼ cup fresh lemon juice
¼ cup butter (Smart Balance or other Omega–3 healthy spread)
Salt and Pepper to taste
4 thinly sliced lemons for garnish
Directions
Salmon:
In a large skillet melt butter or Omega–3 healthy spread. Once skillet is medium hot, place salmon fillets on skillet and salt and pepper to taste. Pour the lemon juice onto salmon fillets and cook until done and flaky. Keep warm.
Analysis
Calories 490, protein 20.6 g, carbohydrates 6.5 g, fat 27 g, sodium 18.5 mg, potassium 298 mg, phosphorus 150 mg.
Attribution:
This recipe was submitted by Letty Moreno-Brown, MS, RD, LD.