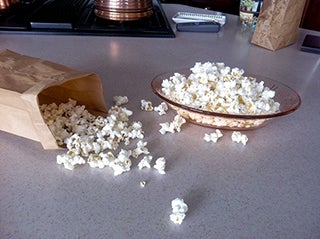 Appropriate for:
Serves 1
Ingredients
¼ cup popcorn kernels
2 teaspoon Smart Balance buttery spread
1 ½ packets Equal sweetener (or 2 teaspoon sugar)
Directions
Place Smart Balance in a small microwavable covered dish. Microwave on power level 7 for 30 seconds or until melted.
Analysis
Calories 170 (202 with sugar), protein 3g, carbohydrates 21g (51g with sugar), fat 7.5g, sodium 60 mg, potassium 84 mg, phosphorus 85mg
Attribution:
This recipe was submitted by Susan Scarpelli, RD.