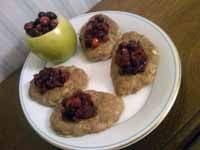 Appropriate for:
Serves 4
Ingredients
Turkey Patty:
1 pound ground turkey
2 cloves garlic, minced
2 tablespoons onion, minced
½ Granny Smith apple, peeled, cored and minced
2 teaspoons poultry seasoning
2 tablespoons all purpose (AP) flour
1 egg
Directions
Mix all of the ingredients together, divide into 4 patties, and press into a flat oval shape. Place on an oiled baking sheet. Bake the patties in a pre-heated 350 F oven for 15 to 18 minutes, or until the patties are cooked completely through the center.
Analysis
Calories 271, total fat 13.7 g, saturated fat 4.8 g, monounsaturated fat 4.8 g, polyunsaturated fat 2.6 g, cholesterol 150 mg, calcium 51 mg, sodium 146 mg, phosphorus 221 mg, potassium 366 mg, total carbohydrates 14 g, dietary fiber 1.7 g, sugar 3 g, protein 22 g
Attribution:
This recipe was submitted by CKD patient Chef Duane Sunwold