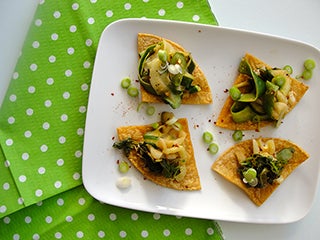 Appropriate for:
Serves 4, 2 triangles per serving with about 2 tbsp. of cook
Ingredients
2 corn tortillas, cut into triangles
2 tsps. vegetable oil
1 zucchini, peeled into ribbons/noodles
1 cup arugula, washed
1 lime, juice and zest
2 tablespoons fresh cilantro, chopped
Pinch red chili pepper flakes, optional
Directions
Set the oven to 375 degrees Fahrenheit and place the corn tortilla triangles on a baking sheet. Place into the oven and cook the tortilla triangles for 8 to 10 minutes, or until they are crisp.
Analysis
Calories 62, Fat 2.7 g, Saturated fat 0.3 g, Cholesterol 0.0 mg, Sodium 28.8 mg, Protein 1.6 g, Carbohydrates 9.4 g, Dietary Fiber 1.8 g, Sugars 1.3 g, Potassium 198.7mg, Phosphorus 65.7mg
Attribution:
This recipe was submitted by Jess Goldman Foung, aka Sodium Girl. For more information on Jess visit her website at sodiumgirl.com.