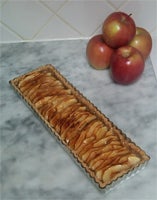 Appropriate for:
6 servings
Ingredients
Dough
1 cup AP Flour
⅓ cup butter
5 to 8 T of ice water
Directions
Dough
Cut the butter into the flour until it becomes small pieces, the size of walnuts. Make a well in the center of the flour mixture and add 5 tablespoons of ice water. Fold the flour mixture over the ice water until the dough sticks together, if the dough is still dry, add more ice water. Wrap dough in plastic wrap and let rest in the refrigerator for ½ hour. Roll out dough on a floured surface and place in a tart pan.
Analysis
Calories 253
total fat 8.7 g
saturated fat 5.3 g
monounsaturated fat 2.2 g
polyunsaturated fat 0.5 g
cholesterol 21.7 mg
calcium 10.9 mg
sodium 63.6 mg
phosphorus 28 mg
potassium 102.6 mg
total carbohydrates 43.7 g
dietary fiber 2.9 g
sugar 22.5 g
protein 2 g
Attribution:
This recipe was submitted by CKD patient Chef Duane Sunwold.