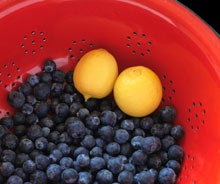 Appropriate for:
Serves 12 1 Slice with ¾ cup berries Per Serving
Ingredients
Cake:
½ cup no fat cottage cheese
½ cup trans fat free unsalted butter
3 fresh eggs
1 cup fat free lemon yogurt
2 tsp vanilla extract
¼ cup splenda
1 ¼ cup all purpose flour
½ cup whole wheat flour
1 tsp baking powder
½ tsp baking soda
¼ tsp salt
2 tsp lemon zest
1 cup blueberries
Directions
For cake, puree cottage cheese till smooth. Place cottage cheese puree, butter, splenda in a mixer and beat till smooth. Add eggs, yogurt, vanilla, lemon juice, lemon zest, and blend until smooth. Scrape sides of bowl. Sift dry ingredients, all purpose flour, whole wheat flour, baking powder, baking soda and salt. Add to mixing bowl, blend until smooth. Add blueberries and mix into rest of batter. Pour mixture into greased 8" angel food cake pan. Bake for 35-40 minutes at 375°F.
Analysis
Calories 251
Carbohydrates 33
Protein 8.2
Fat 9.4
Sodium 105
Potassium 172
Phosphorus 123.8
Attribution: