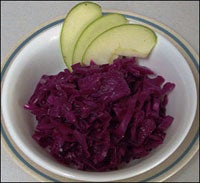 Appropriate for:
Serves 4 1 Cup Per Serving
Ingredients
½ teaspoon canola oil
6 ½ cups (1 #) red cabbage, washed, cored and shredded
½ (1/5 oz) Granny Smith apple, peeled, cored and diced
⅓ cup Cider vinegar
⅓ cup Splenda
White pepper to taste
Directions
In a non-stick fry pan; add oil, cabbage, diced apple and vinegar. Cover and cook over medium heat until cabbage is wilted. Add Splenda and white pepper to taste before serving.
Analysis
Calories 51
Total fat 0.8 g
Saturated fat 0.1 g
Monounsaturated fat 0.4 g
Polyunsaturated fat 0.3 g
Cholesterol 0.0 mg
Calcium 53.5 mg
Sodium 31 mg
Phosphorus 37.3 mg
Potassium 309 mg
Carbohydrates 13.7 g
Fiber 2.3 g
Sugar 6.1 g
Protein 1.7 g
Attribution: