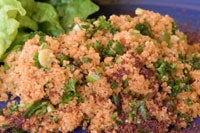 Appropriate for:
Serves 6 ⅔ Cup Per Serving
Ingredients
2 tablespoons olive oil
½ onion, diced
2 medium carrots, diced
1 teaspoon dried basil
½ teaspoon dried oregano
½ teaspoon dried thyme
1 clove garlic, minced
½ cup brown rice
¾ cup bulgur wheat
¼ cup milled flax seeds
4 cups vegetable stock
Directions
In a medium sauce pan heat olive oil over medium heat, add onions, carrots, and cook until onions become translucent. Add basil, oregano, thyme, and garlic; cook for another minute. Stir in rice and keep stirring until rice starts to turn brown. Add vegetable stock, bring to a boil, cover, and turn down to simmer and cook for 15 minutes. After cooking for 15 minutes stir in bulgur and flax seed and simmer for another 30 minutes or until the stock is absorbed. Fluff pilaf with fork. Let stand 10 minutes before serving.
Analysis
Calories 180
Total fat 7 g
Saturated fat 0.8 g
Monounsaturated fat 3.7 g
Polyunsaturated fat 1.7 g
Omega-3 fat 0.8 g
Cholesterol 0 mg
Calcium 42 mg
Sodium 24 mg
Phosphorus 124 mg
Potassium 266 mg
Total carbohydrates 28 g
Dietary fiber 8 g
Sugar 1.5 g
Protein 5 g
Attribution: