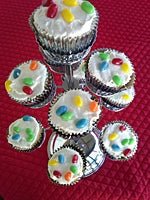 Appropriate for:
Yield: 24 cupcakes
Ingredients
3 Granny Smith apples, peeled, cored and diced
¼ cup caramel flavored syrup - sugar free
1 yellow cake mix, sugar free
¼ cup vegetable oil
3 eggs
½ cup water
Directions
Microwave diced apples for five to six minutes, until they are soft. Smash them with a potato masher and let cool to room temperature. In a mixing bowl, add cake mix, apples, caramel flavored syrup, eggs, oil and water. Mix on low for 1 minute and mix on medium-high for 2 minutes, scraping the bowl to make sure the batter is completely mixed. Fill 24 cup cake liners with 2/3 fill of batter and bake at 325 F for 20 to 30 minutes. Use a toothpick to stick in the middle to check for doneness, if the toothpick comes out clean, the cupcakes are baked.
Analysis
Calories 183, total fat 7.3 g, saturated fat 1.3 g, monounsaturated fat 2.3 g, polyunsaturated fat 2.7 g, cholesterol 27 mg, calcium 34 mg, sodium 174.5 mg, phosphorus 81.7 mg, potassium 45.6 mg, total carbohydrates 29.5 g, dietary fiber 1.4 g, sugar 5.4 g, protein 1.8 g
Attribution:
This recipe, submitted by CKD patient and chef Duane Sunwold, is healthy for those on dialysis and those with diabetes or a kidney transplant.