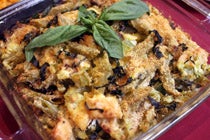 Appropriate for:
Makes 12 Servings
Ingredients
8 .oz Spinach Noodles
½ cup Chopped Green Peppers
8 .oz Cream Cheese
2 Cups Chicken Breasts, roasted and chopped
2 Tbs Basil
1 cup Mushrooms sliced
¼ cup Parmesan Cheese Grated
1 Clove Garlic
1 ½ Cup diced celery
1 Cup Low Sodium Chicken Broth
¼ Cup Plain Bread Crumbs
A few squirts of butter-flavored cooking spray
Directions
Cook noodles as label directs; drain. Mix cheeses, chicken broth, and garlic until fairly smooth. Gently stir in noodles, celery, green pepper, chicken and chopped mushrooms. Pour into spray-oiled baking dish (9 x 13 inches). Lightly spray-oil the top. Cover and bake in a 350 degree oven for 35 minutes.
Analysis
Calories: 300.8,
Protein: 19.5 g
Carbohydrate: 25 g
Cholesterol: 90.1 mg
Fat, Total: 13.6 g
Saturated Fat: 7.4 g
Monounsaturated Fat: 3.9 g
Polyunsaturated Fat: 1.1 g
Dietary Fiber, Total: 2.8 g
Sugar, Total: 1.1 g
Sodium: 259.5 mg
Potassium: 380.2 mg
Calcium: 91.5 mg
Phosphorus: 213.2 mg