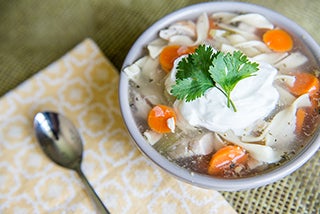 Appropriate for:
Serves 9, serving size 3/4 cup
Ingredients
1 Tablespoon butter or margarine
½ onion, diced
2 stalks celery, diced
½ cup carrots, sliced
3 cups low sodium chicken broth
1 cup water
8 ounces chicken breast, cooked and shredded
10 ounces egg noodles
½ teaspoon basil
½ teaspoon oregano
¼ teaspoon pepper
½ teaspoon garlic powder
Directions
Melt butter in a large pot.
Add onion, celery, and carrots.
Cook until onions are translucent.
Add water, chicken broth, chicken, and noodles.
Bring to a boil.
Reduce to simmer.
Add herbs. Simmer for 20 minutes.
Enjoy!
Analysis
Calories 56, protein 6.3 g, total fat 2.1 g, carbohydrates 6 g, sodium 42 mg, potassium 156 mg, phosphorus 53 mg
Attribution:
This recipe was submitted by Denon Stacy, MS, RD, LD.