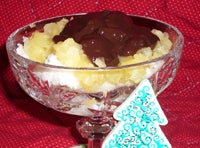 Appropriate for:
Serves 12
Ingredients
1 angel food cake
2 tablespoons Crème de Cocoa
8 packets of Stevia
1 can (20 oz) crushed pineapple, not drained
3 package chocolate tofu
Directions
In a clear glass bowl or individual serving glasses, place a layer of cubed angel food cake on the bottom and sprinkle with Crème de Cocoa. Spoon the crushed pineapple over the cake. Mix the Stevia in with the chocolate tofu and spoon on top over the cake and pineapple.
Analysis
Calories 228
total fat 2.2 g
saturated fat 0.5 g
monounsaturated fat 0.7 g
polyunsaturated fat 0.8 g
cholesterol 0.0 mg
calcium 82.7 mg
sodium 269 mg
phosphorus 85.8 mg
potassium 298 mg
total carbohydrates 45 g
dietary fiber 1 g
sugar 9 g
protein 5.6 g
Attribution:
This recipe was submitted by CKD patient Chef Duane Sunwold.