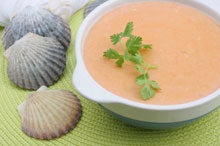 Appropriate for:
Serves 10 1 Cup Per Serving
Ingredients
1 tablespoon unsalted margarine
½ medium onion, chopped
½ lb imitation crabmeat, shredded
1 quart low-sodium chicken broth
1 cup non-dairy coffee creamer
2 tablespoons cornstarch
⅛ teaspoon dillweed
Directions
Melt margarine in a large cooking pot over moderate heat. Add onion and cook, stirring, until soft. Add crabmeat and cook 3 minutes, stirring constantly. Add chicken broth and bring to a boil. Reduce heat to low. Combine non-dairy creamer and cornstarch in a bowl. Stir until smooth. Add to soup and increase heat to moderate, stirring constantly, until mixture comes to a boil and thickens. Stir in dillweed.
Analysis
Calories 87
Carbohydrates 7
Protein 4
Fat 5
Sodium 241
Potassium 80
Phosphorus 82
Attribution: