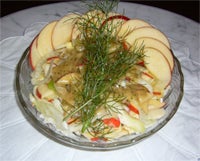 Appropriate for:
Serves 6
Ingredients
1 bulb of fennel, (use only the bottom round portion) sliced very thin
2 red apples, cored and sliced very thin
½ cup of lemon juice
Directions
Mix the all of the dressing ingredients together first. Dip the sliced apples in lemon juice to prevent them from turning brown. Mix the sliced fennel, apples and dressing together and serve immediately.
Analysis
Calories 110
total fat 7g
saturated fat 0.5 g
monounsaturated fat 4 g
polyunsaturated fat 2.1 g
cholesterol 0.0 mg
calcium 29.7 mg
sodium 62 mg
phosphorus 29.6 mg
potassium 250 mg
total carbohydrates 13.1g
dietary fiber 2.7 g
sugar 7.1 g
protein 1 g
Attribution:
This recipe was submitted by CKD patient Chef Duane Sunwold.