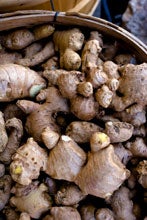 Appropriate for:
Serves 6 ¾ Cup Per Serving
Ingredients
Chicken:
⅛ teaspoon Chinese five spice salt free
½ teaspoon Thai or Oriental salt-free seasoning
½ teaspoon lemon pepper salt-free seasoning
3 tablespoons pre-packaged ginger paste
¾ teaspoon minced garlic
1 tablespoon rice vinegar
¼ tablespoon sesame oil
3-8 oz. skinless chicken breast, cut in half
Directions
Mix Chinese five spice, Thai or oriental seasoning, lemon pepper, pre-packaged ginger paste, and rice vinegar into a paste. Place chicken breasts in an oil baking dish. Spread the ginger paste over the top of the chicken breasts and bake in a preheated 350°F oven for 45 to 55 minutes or until the chicken is cooked completely without becoming dry. Drizzle sesame oil over top of chicken before serving.
Analysis
Calories 204
Carbohydrates 8.4
Protein 27.2
Fat 6.5
Sodium 105.6
Potassium 452
Phosphorus 239.8
Attribution: