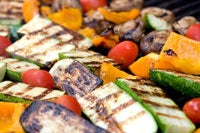 Appropriate for:
Serves 4 ½ Cup Per Serving
Ingredients
3 medium zucchinis, sliced
2 heads of anise (fennel), sliced
8 button mushrooms, quartered
4 Roma tomatoes cut into eighths
1 red onion, cut in half and then sliced
2 tablespoon fresh basil leaves, shredded
1 teaspoon fresh thyme
1 teaspoon fresh oregano
Directions
Mix all ingredients except the cucumbers in a food processor. Refrigerate overnight. Slice cucumbers, serve with dip spooned over the top, and garnish with fresh dill sprigs.
Analysis
Calories 198
Total fat 15 g
Saturated fat 2 g
Monounsaturated fat 10 g
Polyunsaturated fat 2 g
Omega-3 fat 0.19 g
Cholesterol 0 mg
Calcium 54 mg
Sodium 96 mg
Phosphorus 138 mg
Potassium 887 mg
Total carbohydrates 16 g
Dietary fiber 4 g
Sugar 8 g
Protein 4.5 g
Attribution: