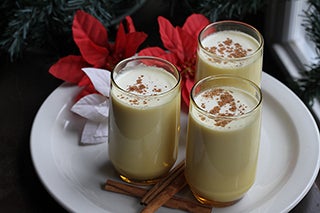 Appropriate for:
Serves 6 1/3 Cup per Serving
Ingredients
1 ½ cups liquid non-dairy coffee creamer**
½ cup frozen eggs or ½ cup liquid low–cholesterol egg substitute
2 tablespoons sugar
1 ½ tablespoons vanilla
Nutmeg
Directions
Combine first 4 ingredients in a blender or beat with an electric mixer until well mixed. Chill thoroughly. Serve with a sprinkle of nutmeg.
Analysis
Attribution: