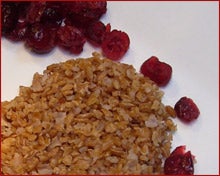 Appropriate for:
4 Servings (4-½ cup serving sizes)
Ingredients
1 cup Bulgur wheat
1 cup Cranergy drink
1 tablespoon sugar
1 tablespoon cinnamon
½ cup Craisins
¼ cup chopped almonds
Directions
Mix bulgur wheat, Cranergy drink, sugar and cinnamon in a microwavable bowl. Cover and microwave 5 minutes or until all the liquid is absorbed. Stir in craisins and sprinkle with chopped almonds on top.
Analysis
Calories 130
Total fat 4.6 g
Saturated fat 0.4 g
Monounsaturated fat 2.7 g
Polyunsaturated fat 1.2 g
Cholesterol 0.0 mg
Calcium 55.9 mg
Sodium 19.6 mg
Phosphorus 147.2 mg
Potassium 221.3 mg
Total carbohydrates 52.3 g
Dietary fiber 9.6 g
Sugar 19.4 g
Protein 6.1 g
Attribution: